Winter 2014 Stories:

Hansen expands DC Motor Offering with Brushless DC Motors
Hansen is now offering multiple sizes of 3 phase brushless DC motors (BLDC). Our 24mm, 36mm and 40mm diameter units offer power ratings up to 220 watts and speeds up to 15,000 RPM. BLDC motors are the ideal choice when long life, high electrical efficiency and minimal electromechanical interference are required. These electrically commutated units also utilize 3 hall sensors for rotor position feed back.
The high performance to size ratio of these BLDC motors make them the ideal choice for demanding applications in power tools, pumps, medical analytics equipment, industrial robotics and communication equipment.
Specification and Contact Detail Here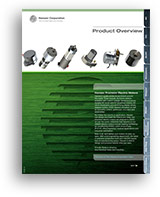 Hansen Simplifies Motor Specification Search with New Tools!
Hansen strives to provide the best possible product experience to our customer's. For this reason Hansen has completely updated and upgraded our product information across all product lines. Product information is available on the website in html and pdf format. For users looking for more comprehensive formats, Solidworks and CAD presentation are available in an easy-to-use, site integrated, format. If you need additional help finding your Hansen motor, the site also features custom site search and product line specific parametric search.
| AC | DC | Brushless DC | Actuators | Stepper | PMAC |
| Clock Movement | Slip Ring | Chart-Drives |